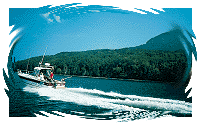 Founded as a stop on the transcontinental railway, this former commercial fishing port features charming gift shops and excellent restaurants for a night out in this quaint village. Tie up to the dock or anchor in the bay.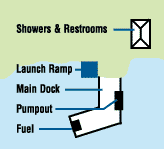 A short walk up the hill will bring you to comfortable lodging, restaurants and gift shops. The Serendipity Gardens Café and Guest House serves a feast for the eyes as well as the taste buds. The historic Rossport Inn also offers fine dining in addition to saunas and overnight accommodations (NOTE: please call ahead to check availability,1-877-824-4032). Additional accommodations are available at the Willows Inn Bed and Breakfast, Serendipity Guest House and Island Shores Bed and Breakfast.
For the shopper's delight, there are the Forget-Me-Not and Shipwrecks Gifts and Collectables. Take a stroll to Nicol Island for a hand made gift from Island Pottery. On your way, discover the community's history which is on display at the Caboose.
Take some time to cruise the Rossport Islands. Explore the island trails, search the cobble beaches for geodes, crystals and agates or fish in the pristine waters. The adventurous can hike for several hours or a few days along the scenic forty-five km. Casque Isles Trail which extends from Rossport through Schreiber to Terrace Bay.
Slate Islands Havens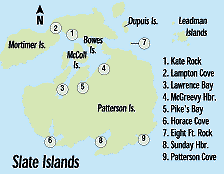 Several kilometres offshore from Terrace Bay an archipelago of islands rises sharply from the waves. Formed over a billion years ago by asteroid impact, the Slate Islands are a favourite destination for anglers and cruising boaters. Explore some of the many secluded bays and anchorages and you may catch a glimpse of the woodland caribou that inhabit this wildlife preserve.